North Ayrshire, KA27 8JN, United Kingdom
Under Offer £36,000 per annum - Other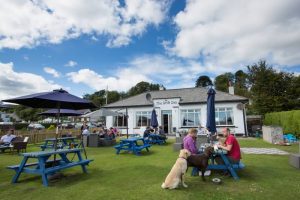 Description
Due to unforeseen circumstances an opportunity has arisen to take on the Lease of The Drift Inn in Lamlash, on the East Coast of the Isle of Arran. The established business has spacious open plan restaurant and Lounge Bar and, of course, the facilities are augmented by outside tables.
Location
Lamlash is one of the larger settlements on the island and the property lies just off the main coastal thoroughfare, on the sea front giving it spectacular views over Lamlash Bay and Holy Isle. Arran has a permanent population 5,058 residents ( latest estimate ) but this figure doubles  during the summer months
Lease Details
The property is currently the subject of a formal Lease which runs from 8th November 2017 until 7th November 2038. The Landlords are seeking a suitable tenant to take over the existing contract. The current rent is approximately £36,000 per annum.
Trading Details
Trading figures will be made available to genuinely interested parties after viewing although the information made available to us indicates that for the year to 31st October 2018 the turnover (net of VAT ) was approximately £470,000. The ratio of wet sales to food was 45% to 55%.
Opening Hours
Details of the current opening hours are shown in the Drift Inn's web site the driftinnarran.com  but these can be summarised as follows;
Monday & Tuesday: Closed
Wed – Saturday: 12.00 – "late"  (food 12.00 – 9.00pm)
Sunday: 12.30 – late (food 12.30 – 9.00pm)
Of course, there is no reason that in incoming tenant cannot open on Monday or Tuesdays and the Licencing Hours are fro 11.00 am until 1.00 am Monday – Saturday and 11.00 am – 12.oo midnight Sunday.
Staff
We are advised that during the summer months there are 8 full time members of staff and 4 part time. During the winter months this reduces to 4 full time staff and 2 part time.
Licence
The premises have a full public house licence which is due for renewal in October of this year. It is therefore imperative that any interested party notes interest as soon as possible.
Brewers' Ties
As far as we are aware, there are no ties in place in which case a new tenant is free to negotiate with preferred suppliers.
Viewing
Strictly by appointment with the Letting Agent;
Alistair G Paterson FRICS
T: 01563 522855
M: 07843 583596
E: Alistair@paterson-associates.co.uk
Offers
Proposals to take on the existing Lease should be made in writing, either to the email address referred to above or in writing to;
Paterson Associates
5 St Marnock Street
Kilmarnock
KA1 1DZ